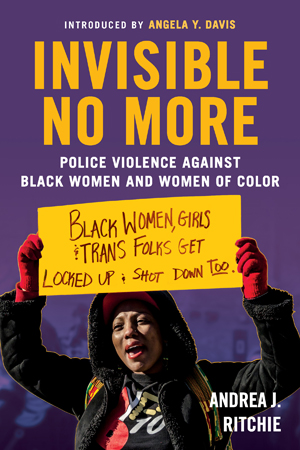 Foreword by Angela Y. Davis
Foreword by Mariame Kaba
Afterword by Charlene Carruthers
Invisible No More is a timely examination of how Black women, Indigenous women, and women of color experience racial profiling, police brutality, and immigration enforcement. Placing stories of individual women—such as Sandra Bland, Rekia Boyd, Dajerria Becton, Monica Jones, and Mya Hall—in the broader context of the twin epidemics of police violence and mass incarceration, it documents the evolution of movements centering women's experiences of policing and demands a radical rethinking of our visions of safety—and the means we devote to achieving it.
Listen to an excerpt from the audiobook for Invisible No More: Police Violence Against Black Women and Women of Color, narrated by Bahni Turpin and available from Audible.
What People Are Saying About Invisible No More
—Michelle Alexander, author of The New Jim Crow
"With Invisible No More, Andrea Ritchie has produced a work of great scope and depth, tightly documented and deeply moving. Ritchie spans multiple centuries, nations, issues, and identity lenses to lay bare the effects of violent policing on women of color. She authentically and skillfully centers Black women while seeding the ground for alliances among women of color....Most importantly, she introduces us to a generation of fighters we can follow, support, and lift up."
—Rinku Sen, executive director, Race Forward
"Invisible No More is more than a book about police accountability; it is an important read that interrogates policing practices at the intersections of race, gender, sexuality, and ability."
—Monique W. Morris, author of Pushout: The Criminalization of Black Girls in Schools
"This is a terrifying book, not only because it exposes the startling number of Black women whose lives were cut short by state-sanctioned violence or the fatal consequences of policing Black women's bodies. What is most disturbing is how little we know about these women and their stories. But thanks to Andrea Ritchie's thorough research and raw storytelling—capturing both the horrors and the resistance—we can finally begin to #sayhername and end the state's war on women of color once and for all."
—Robin D. G. Kelley, author of Freedom Dreams: The Black Radical Imagination
"...a powerful call to action to all who care about women..."
—Margaret Huang, executive director, Amnesty International
"Invisible No More is the most recent book by the brilliant Black feminist legal scholar, writer, and activist Andrea Ritchie, in which she maps the brutal history of police violence against Black, Indigenous, and other women of color in what is now the United States....From settler colonial atrocities, to the school-to-prison pipeline, to the experiences of transgender women, Ritchie confronts us with a set of realities too vivid to ignore. ....will anger, educate, and inspire you to act."
—Barbara Ransby, historian, activist, author of Ella Baker and the Black Freedom Movement, and president of the National Women's Studies Association (2016–2018)
"Andrea Ritchie's meticulous documentation and masterful writing emphasize why it is imperative that we examine the roles of race, gender, gender identity, and sexuality when we talk about and work on eradicating racial profiling, police brutality, mass incarceration, and other forms of state-sanctioned violence in the United States. Invisible No More is an invaluable organizing resource..."
—Aishah Shahidah Simmons, producer/writer/director, NO! The Rape Documentary
"...a powerful affirmation of why our movement has to be rooted in exposing and advocating for Black women and girls who experience state brutality. ...Ritchie has created the opportunity to do more than amplify police violence against Black women and to enable Color of Change and other movement organizations to also identify the intervention points where we can make real change happen in order to create a just and safe society for all Black people, especially cis and trans women and girls."
—Rashad Robinson, executive director, Color of Change
"Ritchie is at once eloquent and forensic in centering the experience of Black women ...to build an urgent argument to reconstitute the policing function itself."
—Urvashi Vaid, attorney and author of Irresistible Revolution: Confronting Race, Class, and the Assumptions of LGBT Politics
"...deeply challenges both antipolicing and antiviolence movements to expand the scope of their work to address how policing operates through gender, race, disability, and colonialism. ...A crucial and paradigm-shifting book."
—Andrea Smith, author of Conquest: Sexual Violence and American Indian Genocide
"...a vital contribution to our understanding of policing and criminalization, exposing how women, trans, and gender-nonconforming people are targeted. ...The tool we need in this exact moment, as grassroots resistance to police violence grows alongside an increasing emboldenment of racist law enforcement."
—Dean Spade, author of Normal Life: Administrative Violence, Critical Trans Politics, and the Limits of Law
"Ritchie moved me from page one with layered, thoughtful, and well-researched storytelling describing the multiple ways women of color are impacted by criminalization, begging the question of how their stories have been neglected and calling on all of us to make them visible. ...if heeded, will undoubtedly transform the course of history."
—Opal Tometi, cofounder of Black Lives Matter and executive director of Black Alliance for Just Immigration
"Ritchie draws from her experiences as an organizer, researcher, activist, agitator, immigrant, and survivor to paint a tear- and blood-splattered portrait that illustrates with depth and clarity the shared struggles of women of color in the United States...Ritchie speaks unapologetically from the margins, tackling white supremacy, police brutality, gender, and class with a deft hand and a full heart. ...Ritchie's work is invaluable to me as a journalist, and with this book, she continues to show that writing is resistance and that if liberation is our true goal, then Black women and girls can be invisible no more."
—Kirsten West Savali, senior writer and editor, TheRoot.com
"Invisible No More is not only a hard testament to the true nature of policing ...but also to our foremothers' relentless resistance..."
—Paulina Helm-Hernandez, former co-director, Southerners on New Ground
"With a profound sense of urgency and deep compassion, combining her keen instincts as a legal scholar and her work as an antiviolence activist, Andrea Ritchie brings long overdue attention to the policing of Black women and other women of color such that their stories are indeed invisible no more."
—Beth E. Richie, author of Arrested Justice: Black Women, Violence, and America's Prison Nation
"Reading this book is hard but critically important—and essential for our political education. The stories and timeline are both well researched and needed, and they taught me things I wasn't aware of and am grateful to learn. If Andrea Ritchie hadn't documented these histories, I'm afraid no one else would have."
—Coya White-Hat Artichoker (Lakota), founding member, First Nations Two Spirit Collective